Do not attempt to perform any of your own testing due to exposure risks and dangers. See CAUTIONS
Professional Scientific Health Risk Investigations for RF Cell Phone Related Radiation
We can test for A EMF/EMR RISK presence and intensity to determine and document the levels within your habitation or surrounding outdoor areas during and with our full indoor human habitation health risk study. Each case is VERY different. Often we identify other major risks during our highly integrated subClinical Investigations® including pathogenic biologicals, toxicity and agents of disease. Do not wait longer if you suspect any exposure risk-the longer the wait the greater the dosage. Call now for a free initial phone consultation .
Medical research has repeatedly shown higher incidences of Cancers (GLIOMA) in both children and adults, blood disorders, affecting reproduction and the central nervous system, human cell division and the immune system and other Electron Related Diseases (ERD) from exposure to electromagnetic radiation (EMF and EMR : See Report from United Nations World Health Organization ) in its many forms.
NY METROPOLITAN AREAS OF HIGH INTEREST INVESTIGATIONS
*1. NEW YORK CITY 2. HOBOKEN 3. JERSEY CITY
BRAIN CANCER AS A TUMOR (NEOPLASIA) WITH NEUROLOGICAL DISFUNCTION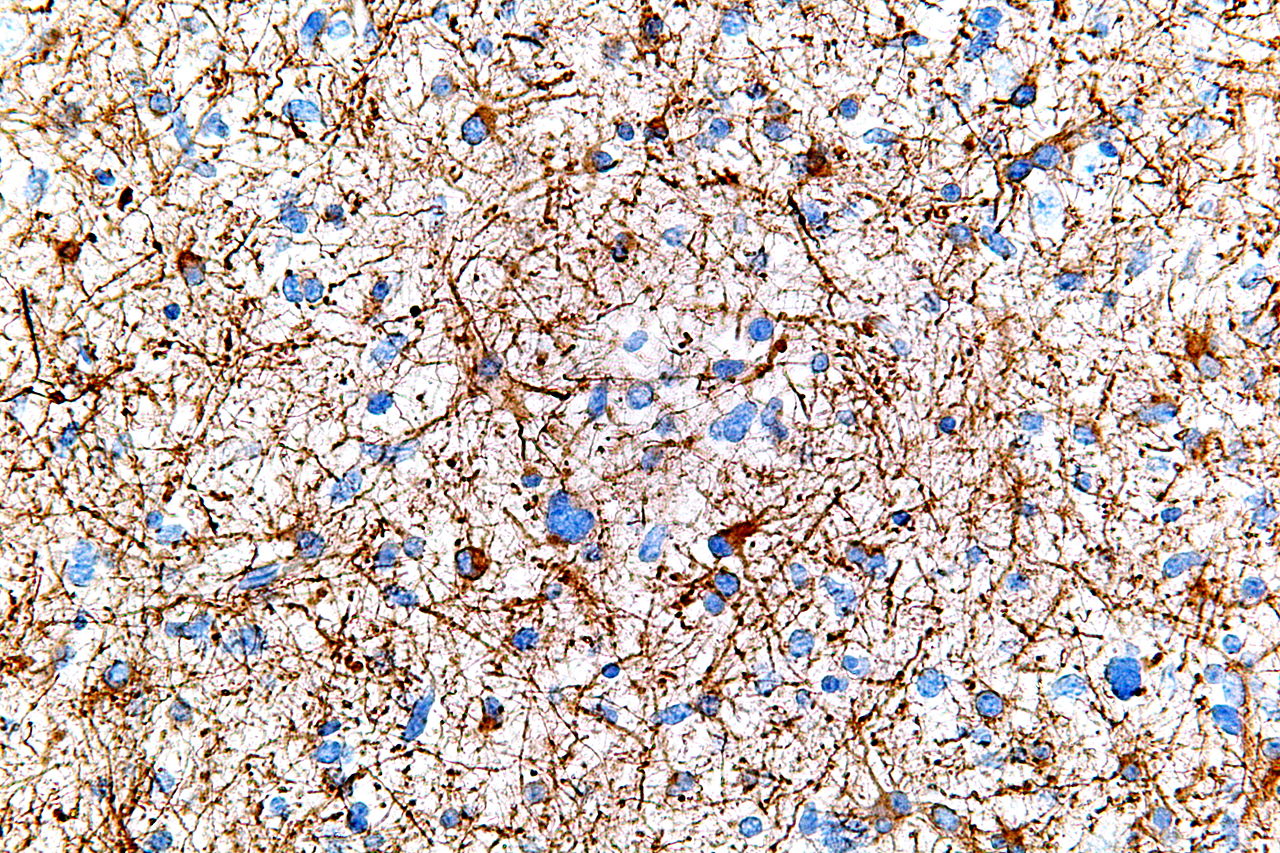 A GLIOMA (BLUE) NEOPLASIC GROWTH (MAGNETIC RESONANT FIELD INDUCTION- COMMONLY TRANSLOCATIONS TRANSVERSIONS, INSERTIONS AND DELETIONS) I.E. RESULTING IN THIS CASE AS A CANCER OF BRAIN CELLS
"Once understood that all health injury associated with radiation occurs on the molecular level you will simply know that the affect on the brain and other cells especially for those at teratogenic risk state for infants. EMF and EMR quanta can have a significant oscillatory and thermal effect on the genes and on cells as in this image of brain tissue. This will result in genetic mutations, cause the cancers that may not become notable until years later,  human cell and tissue injury with   many irreversible. It is in fact simply well understood by medical scientists" You may speak and discuss with one of our medical specialists."
ALLERGIC AFFECT OF ELECTROMAGNETIC RADIATION - CELLULAR TRANSMISSION
Atopic dermatitis and electromagnetic radiation (EMR). EMR Microwave radiation undoubtedly has an affect on human cells as recently reported to also increased plasma levels and vasoactive intestinal peptide in patients. These studies suggest that dermatological responses such as itch, twitch or other body sensations may be a result of exposure to radiation from cell phone radiation and they enhance allergen-induced responses. See:Allergy. 2005 Jun;60(6):838-9 and International Archive of Allergy and Immunology 2002 Dec;129(4):348-50.
ELECTROHYPERSENSITIVITY (EHS)  RECOGNIZED AS A FUNCTIONAL IMPAIRMENT
Persons, claiming to suffer from exposure to electromagnetic fields, has been described in the literature. Electromagn Biol Med. 2006;25(4):245-58.
Do not attempt to perform any of your own testing due to the risks, dangers and possible shock injury/death. See CAUTIONS
We will provide a free investigation at same time that can identify areas for potential electrical fires within the home if requested.
SPECIAL EMF EMR RF CONSIDERATIONS FOR NEW YORK CITY HOBOKEN JERSEY CITY NEW JERSEY
*MID-TOWN MANHATTAN, BROOKLYN, QUEENS, STATEN ISLAND HOBOKEN JERSEY CITY are areas of very high concentraion of emf emr RF RADIATION EMISSIONS EXPOSURE. GET IT RIGHT THE FIRST TIME BY THE EXPERTS.
Do not attempt to perform any of your own testing due to the risks, dangers and possible death. See CAUTIONS