TOP FLOORS AND HILLSIDE LOCATIONS WHERE EMR RF EXPOSURE INCREASES
There are massive radio frequency cloud and high voltage electrical towers in all large cities worldwide and without argument the greater Philadelphia, Trenton, Camden, Cherry Hill, area with over 400 RF towers and antennas within 2 miles of the center of Trenton is a large harbor of EMI from EMF EMR and RF presence. Some of these areas have antennas and communications installations that may be emitting signals into your home or office habitable areas. If you are experiencing any unusual activity, interruptions and failures from electronic equipment, computers or phones or experiencing any discomforting noise, whistling or ringing an investigation may be warranted - call for a free initial consultation.
Professional Scientific Exposure Risk Investigations for RF Related Radiation
We have confidentially investigated numerous locations for the presence of electromagnetic radiation in many areas and neighborhoods. Some of the most important areas are near radio, microwave, cell phone, private and undocumented transmitting sources. In some cases we have seen 20 to 50 times the normal levels and HIGHER. In one recent case levels 5 times the danger level (fortunately a rarely accessed area) where the injury, disease and possible death. Such may result from a painless exposure in as little as 30 seconds. These exposure injuries would never have been calculated, expected or diagnosed by clinicians or medical doctors.
Do not attempt to perform any of your own testing due to the risks, dangers and possible RF injury. See CAUTIONS
Investigating, sampling, testing and assessing for RF EMF/EMR RISK presence is highly complex and not for amateurs because these fields are all very very different when it comes to determining and documenting their presence and the risk levels within and about your home or surrounding outdoor areas. Each case presents its own unique environmental electron presence. In addition we routinely identify other major risks during our highly integrated subClinical Investigations® (when requested/ordered) including pathogenic biologicals, toxicity and agents of disease within the home the effects of which are amplified by the EMI EMR EMR and RF presence. Do not wait longer if you suspect any exposure risk-the longer the wait the greater the dosage-exposure related injury. Call now for a free initial phone consultation .
In addition we may provide a free investigation at same time that can identify areas for potential electrical fires within the home office or business if requested in advance.
Do not attempt to perform any of your own testing due to the risks, dangers and possible death. See CAUTIONS

CALL FOR A FREE PHONE CONSULTATIONS WITH OUR EMF EMR RF EXPOSURE EXPERTS
The Trenton center EMF EMR RF "cloud" with over 400 cell towers and antennas within a 4 mile area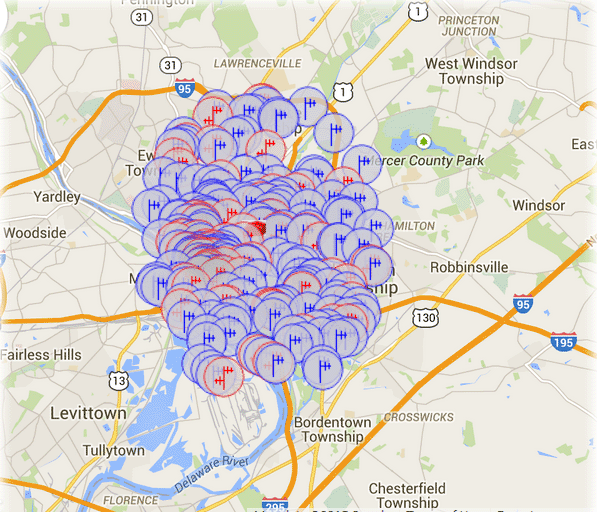 Although being in the EMF and the cell tower EMR RF "cloud" does not mean an immediate risk is present because in fact

individual/single

cell towers /antennas are commonly and generally safe when installed and maintained correctly. But if and when questions do arise an investigation may be cautionary appropriate and reasonable when multiple installations are present locally. Proper exposure analysis is highly complex. Licensed, certified and experienced experts are required.
CALL

NOW
FOR FREE INITIAL PHONE CONSULTATION TO DETERMINE IF AN INVESTIGATION IS NEEDED
BY APPOINTMENT ONLY: ALL INVESTIGATONS ARE CONFIDENTIAL